Before anything: Viewer/Reader Discretion Advised.
An article by Express wrote this about Alexandra Daddario, "It's unlikely that anyone could find any flaw with her impressive physique – even in the iconic slow motion moment."
Before she became a poster-model for Baywatch, and before that not-decent-at-all True Detective scene, many did not consider her breasts to be an eccentric feature on her as people were swayed by her blue eyes alone. But since choosing to go with the flow, how they match her body perfectly has gotten a lot of attention on the plastic surgery department, especially boob job.
Point to note. She's been acting since the age of 16 with a big role in 'All My Children', but her biggest role was when she played 'Annabeth', daughter of 'Athena' (something that might compliment her looks), in Percy Jackson & the Olympians: The Lightning Thief in 2010. So unlike typical breakouts, she'd been in a whole dozen of acting roles before "the one".
Some Claim Alexandra Daddario Did Have a Boob Job, But Her Concern, "The President Has Seen My Boobs"
Sometimes, it just takes an honest thought on Twitter to go viral. But mash it up with something like what Daddario wrote, there was no denying it would go viral, if you were the first one to see it.
True Detective fans know how she stripped down for an episode of the show in 2014, something that HBO shows naturally needs (Game of Thrones alert!). But it wasn't something that struck in her mind first when she heard that former President Obama asked for advance copies of the show. According to Vanity Fair, her first reaction was, "Wow, the President knows who I am!"
However, it was her second thought she actually posted on Twitter that burned like none of her posts. "…. The president has seen my boobs," she wrote. And don't worry, her character in the series kind of justified her nudity scene.
It was actually around this time people took notice (really took notice) of her more eccentric quality than just that demi-godly face. Her cup size seemed to have drastically been updated since her breakthrough fame in Percy Jackson. Even in the second Percy Jackson film, Sea of Monsters, there was no noticeable difference.
Discussions about a possible plastic surgery don't come a long way when it comes to the likes of beauty that is Daddario. Many have claimed a boob job is something that is definitely not something that could be ruled out due to the stark differences since a decade ago.
However, it doesn't mean this couldn't be something that could happen naturally. Look through the photos since 2010 (when people never thought her breasts were something to notice in front of her face), you might see a step by step increase in the size. It was only when nudity happened for her on True Detective that people came talking too much about plastic surgery.
Daddario herself has not said anything about her boob job speculations, but she does not ever shy away from talking about the assets than accentuate her beauty.
"One Is Bigger Than the Other," She Tried Making Them Bounce Evenly in 'Baywatch'
It was when Alexandra Daddario hit the beach in this infamous red swimsuit in Baywatch that got people riled up about the perfection of her body through and through. But amidst all that fame, she had her own problems.
In an interview with Australian radio station Nova 969 in May 2017, she revealed how she struggled to "make sure that the t**ties bounce correctly" during the infamous running-in-the-beach scene or any other scenes for that matter.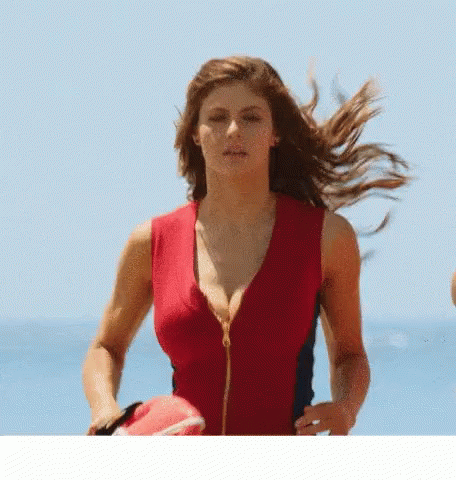 Implants don't really give you the freedom to move like that.
GIF Source: Tenor
"You have to make sure that the t**ties bounce correctly, because one of them is bigger than the other, so you want them to bounce evenly," she said in the interview, according to Express. It's not a boob job that she got to make it perfect. She credits finding the "right bra" and having the correct attitude. "You don't want to look stupid. The first time I was trying way too hard. You have to look natural and normal."
People Even Thought She Had a Facelift for a Perfect Face
Ever imagined her giving you an intense stare, and you found her look a little intimidating? No? Now you are, aren't you?
Daddario's complexion, her eyes and somewhat a well-rounded face also got people thinking a possible facelift. But throughout the years, there doesn't seem to be a significant difference in her facial structures, besides the amount of makeup she uses each time.
There isn't much to go on about her facelift rumors with this comparison. She's as natural as she can get, plus a little more makeup than she used to use. Yeah, we can acknowledge a possibility of a few tweaks to her face that she may have decided. After all, an artist has to preserve her place in Hollywood. Though, with that body, she wouldn't need to try too hard, just a little more hard work to put into.
Stay tuned and connected to beautyfrown for clarity of more celebrity Plastic Surgery discussion.